Larus fuscus fuscus 30CY HT-054.651 March 17 2012, Ashdod, Israel. Picture Amir Ben Dov.
16.3.2012 and 17.3.2012 Amir Ben Dov with Ehud Dovrat observed the oldest ever gull ever recorded in Israel: Baltic Gull Ring HT-054.651. The bird was seen already in 9.3.2010 in Ashdod (and already than was the oldest).
This bird was ringed as pullus on July 09 1983 in YLOJARVI, HAME, Finland (61.41N 23.43E) by ringer MARTTI LAGERSTROM. It is now 28.9 years old. It was seen 4 times since ringing (in 4.5.08 Tampere Finland) and 3 times in Israel (once 2010 and twice 2012).
Risto Juvaste replied: It is by ONE DAY the third oldest Finnish one. I hope thet FRC AGE-record table is update!

Finnish age records:
http://www.luomus.fi/elaintiede/rengastus/tuloksia/ikaennatykset.htm

Larus fuscus - Selkälokki Age ring Ringing age (chicks) dates Ringer

years months days
32 1 22 HT0038864 PP 20.06.1976 12.08.2008 live read TIMO KAIRESALO
31 0 21 HT0046361 PM 03.07.1979 24.07.2010 Read by ringer ROGER BLOMQVIST
29 8 7 HT0017446 PP 15.07.1972 22.03.2002 Shortly dead ROGER BLOMQVIST


From the Euring list the oldest (the Finnsih one is the second)>>
http://www.euring.org/data_and_codes/longevity.htm

Lesser Black-backed Gull Larus fuscus
Britain & Ireland GM 21509 34yrs 10mths Shot
For longlivity records, it may also be interesting to have a looka at Finnish Bird Atlas (it is in English also)
http://atlas3.lintuatlas.fi/english/
Direct to Fuscus >http://atlas3.lintuatlas.fi/results/species/lesser%20black-backed%20gull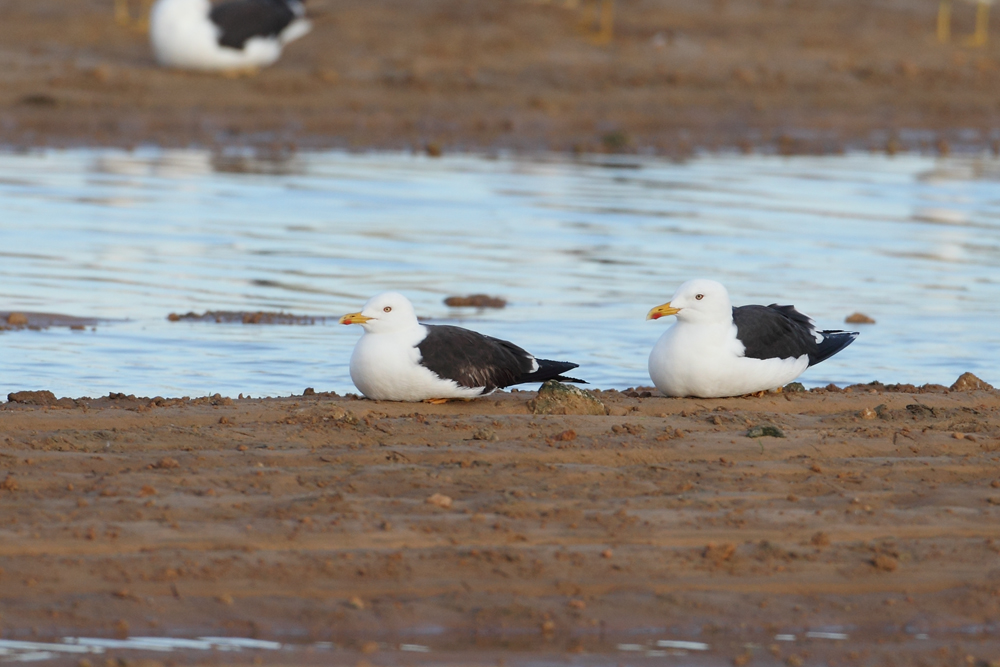 above, left bird is HT-054.651.
below: note white ring in background. This day 47 rings read at Ashdod! Over 1600 gulls present.