adult fuscus: October
In the adult August section, you can find adult fuscus, which may moult the inner one or two primaries in N Europe on the breeding grounds. Quickly after August, the birds migrate south, and for this long journey the moult is arrested. By doing so, they with a full hand of flight-feathers, and do not spend energy on the moult process.
Adult fuscus arrive at the stop-over sites and winter sites with either:
- 10 old primaries
- P1 replaced
- P1-P2 replaced.
This is the normal moult stage as described by Jonsson and is illsutrated by many example birds. (searching long enough will probably result in birds which also replaced P3, but that's a minority).
As soon as birds arrive in S Europe and Africa, primary moult is started (again) and a complete moult takes place, normally in the ordinary sequence as it is found in many large white-headed gull taxa in N Europe. The table below illustrate the moult scores for Israelian birds, photographed by Amir Ben Dov.
Table adult October
Table showing old and new primaries in adult fuscus in October; data for Israel (2008-2011).
P6 new = P6 longest new primary; it exceeds the previous primary in length (so P6 new / fully grown, only from the moment when it is longer than P5).
| | | | | |
| --- | --- | --- | --- | --- |
| PMS | 0 new | P3 new | P4 new | total |
| P7-P10 old | . | . | 2 | 2 |
| P6-P10 old | . | 1 | . | 1 |
| all old | 4 | . | . | 4 |
| total | 4 | 1 | 2 | 7 |
Migration patterns of adult and juvenile Lesser Black-backed Gulls Larus fuscus from northern Norway.
Five Norwegian authors, Morten Helberg, Geir Systad, Ingve Birkeland, Nils Lorentzen & Jan Bustnes published an article with this title in Ardea 97, 2009. The complete PDF can be found HERE.
In this section, we describe in short the findings regarding adults.
Northern Norway: breeding ground for dark-mantled and pale-mantled LBBG
Traditionally, two subspecies of LBBG could be found in Norway: dark-mantled nominate fuscus in the north and pale-mantled intermedius in the south. Last decades, nominate fuscus breeding figures have dropped dramatically, while those figures for pale-mantled birds have increased. Nowadays (but already from the late 1980's) pale-mantled birds, either with origins in graellsii-land or colonisers from south Norwegian intermedius-land can be found way up in northern Norway.
Extensive ringing programmes in southern Norway show that juvenile intermedius follow the 'western flyway': from S Norway, through the North Sea bassin down along the Atlantic coast to the Iberian Peninsular and the west African coasts of Morocco and Mauritania. For north Norwegian populations, such migration research was unknown.
The three northernmost counties (Nordland, Troms and Finnmark) were visited from year 2000 onwards, to supply darvic rings to adults (June) and juveniles with body mass >300 gr (July). Darvic rings were used in 12 colonies, with varying numbers of breeding pairs (two pairs to 400 pairs). Three of these colonies held 'pure fuscus' while the other nine colonies held both fuscus and intermedius/graellsii in about equal portions (see Table 1).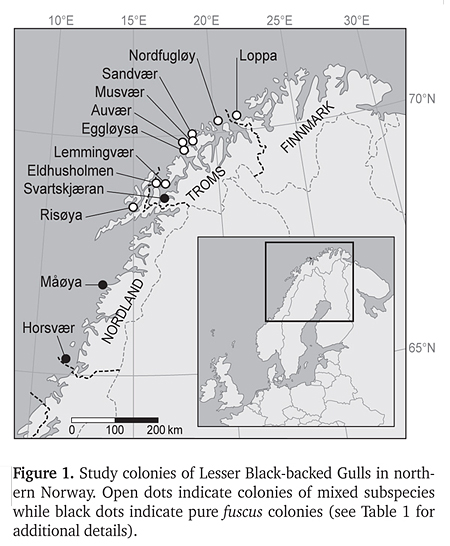 All resights up to May 2008 are included in this research. Adults were trapped during the incubation period in late June, using walk-in cages. In mixed colonies with pale and dark-mantled birds, sub-species were determined easily in the hand. 199 birds were caught: 172 fuscus, 22 pale-mantled birds and just 5 birds undetermined.
Between 2000-2007, 16 birds (8%) were resighted. 10 pale-mantled birds (10/22 = 45%) and only 6 fuscus (6/172= 3,5%) were seen outside the colonies. When considering only mixed colonies, the figures don't change much; resighting probablities for fuscus remain low.
Several birds confirmed the idea of fuscus being an eastern migrant: single observations from central inland Norway, the Baltic Sea and Israel demonstrate the eastern migration route (eastern flyway through Finland, Black Sea, Israel to the Rift Valley into the African Great Lakes). However, there were observations of fuscus in England, and later that winter this bird turned up in Morocco and another bird in Portugal.
Pale-mantled birds were found in England, 3 on the Iberian Peninsula, and single birds in Morocco, Belgium, Italy and Libya. These represent the western migrants (see figure 2, click on image for enlargement).
Wintering Areas
Four fuscus and seven pale-mantled birds were found in winter (01 Nov - 31 March). All birds, except two, were seen between Belgium and Morocco. The two exception were one pale-mantled bird in Libya and one fuscus in Israel. Winter site fidelity appears to be high.
The probability of resightings from birds following a western route is much higher than from birds following an eastern route, as there are less observers along the eastern route.
Table:
Table 1:
Location of LBBG study colonies in N Norway (see fig 1). Abstraction of juvenile data.

Location:

# breeding
pairs:

population
composition:

% L. f. fuscus

years of
ringing

marked

recovered

Loppa

50

mixed

40-60

2003-07

112

14

Nordfugloy

100

mixed

40-60

2000-07

147

20

Sandvaer

8

mixed

40-60

2005-07

7

0

Musvaer

20

mixed

40-60

2007

32

3

Auvaer

20

mixed

40-60

2005-07

59

4

Eggloysa

8

mixed

40-60

2003-07

13

1

Froholman

45

mixed

40-60

2005-07

157

3

Lemmingvaer

45

mixed

40-60

2002-07

222

11

Svartskjaeran

10

pure

100

2005-07

26

1

Risoya

2

mixed

50

2003

0

-

Maoya

25

pure

100

2002

0

-

Horsvaer

400

pure

100

2005-07

509

26

Total:

733

1284

83

Population composition: Mixed = pale and dark-mantled bird breeding together; Pure = only nominate fuscus.