Larus fuscus fuscus 12cy-13cy CJK2 2009-2010, Finland & Israel. Pictures Hannu Koskinen & Amir Ben Dov.
This female fuscus was ringed as pullus on June 28 1998 at Kangasala, SW Finland.
Larus fuscus fuscus 12cy CJK2 April 10 & 18 2009, Koukko dump - Nokia, Finland (61.33N 24.59E). Pictures Hannu Koskinen.
On both days, CJK2 was present with her partner. When two partners stand next to each other, the size and jizz difference is striking in most couples. The largest bird is supposed to be the male, with a flatter head profile and often a more aggressive look than the round-headed female. In such situation 'code M1/F1' is used (actually only inside the terrirory inside of the colony). Code M2/F2 is used during so-called 'courtship feeding': the female tries to stimulate the male to vomit and offer food to her. Code M3/F3 is only used for pairs in copulation.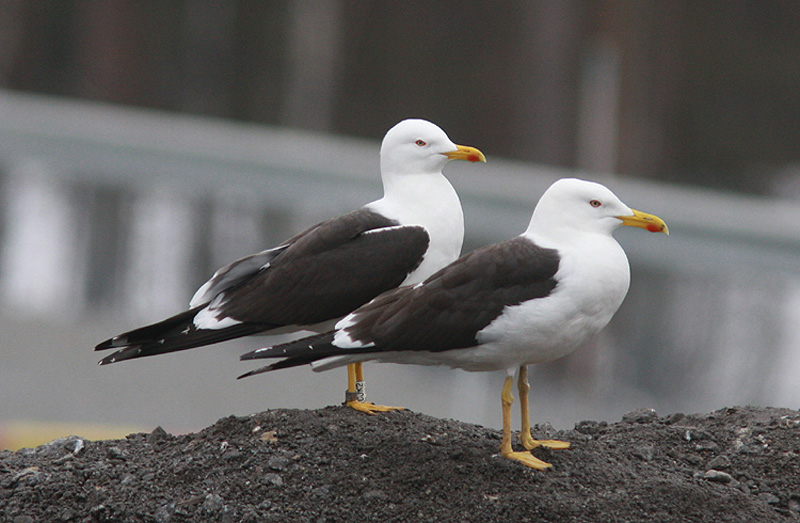 Larus fuscus fuscus 13cy CJK2 March 26 2010, Ashdod. Picture Amir Ben Dov.
Still in Israel by late March. From this image, may be sexed as male by the bulky, pot-bellied jizz; but see image above from Finland, and the second image below. Strong females are known tyo pair with the larger males in the colony (Maasvlakte, in the Netherlands).