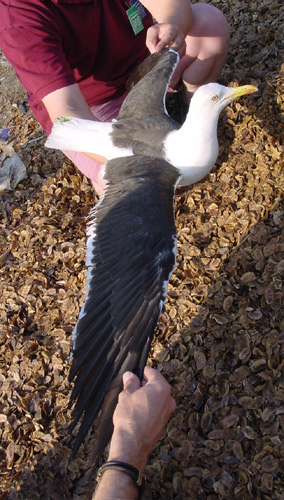 Larus fuscus fuscus CNMP, August 11 2002, Tampere, Finland (61.33N 24.59E).
CNMP was ringed in Tampere, Finland (61,33N 24,59E); ringed as >3cy on August 11 2002 by Risto Juvaste. Hand when ringed: 450 mm.
Ring records at Tampere landfill:
2002: 2 records from 2002-08-11 until 2002-08-17,
2003: 6 records from 2003-05-15 until 2003-07-05.
Ringed as adult at Tampere, Finland on August 11 2002. This individual was ringed CNMP and metal ring HT-238.598, showing two mirrors, one large mirror on P10 and one smaller mirror on P9, indicating this is most probably a male. The tail is worn at the tips. Primary moult has started with P1 shed and P2-P10 still old.
Length of wing-tip to elbow: 450 mm, much in line with the stronger and larger Larus argentatus argentatus caught at the same spot, the same day. This clearly demonstrates why the general impression of fuscus in flight is that of a long-winged and slender-wing gull.
Note the sub-terminal band on P4, bordered by a thin white line. In the left wing, P5 was damaged.