Larus fuscus fuscus 6cy C69E, August 06-09 2002 & July 16 2003, Tampere, Finland (61.33N 24.59E).
C69E was ringed in Kanala, Finland (61,54N 24,32E); ringed as pullus on July 03 1997. Hand when ringed: 240 mm.
Ring records at Tampere landfill:
1999: 1 record from 1999-06-05,
2000: 14 records from 2000-05-01 until 2000-07-29,
2001: 35 records from 2001-05-02 until 2001-08-18,
2002: 27 records from 2002-04-18 until 2002-09-07,
2003: 12 records from 2003-05-13 until 2003-07-26.
Probably a male. Ringed as pullus at Kanala, Finland on July 03 1997, now in 6cy. Note the variation of grey-tone, due to different light conditions. Note the relatively small white tips of the outer primaries, the small mirror on P10. The tips, albeit small, are still partly present, thus the primaries are relatively fresh. Note the fresher median coverts, compared to the greater and lower lesser coverts and tertials. Especially the inner coverts and upper tertials are worn.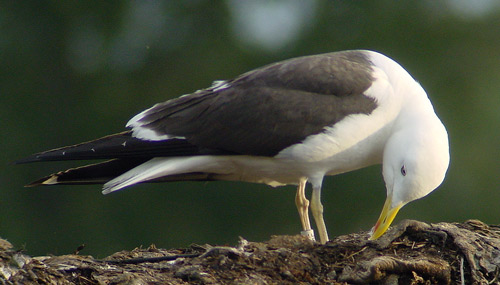 (August 2002)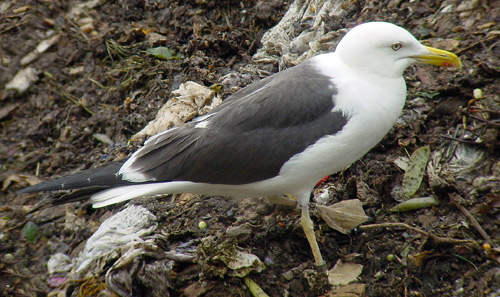 (August 2002)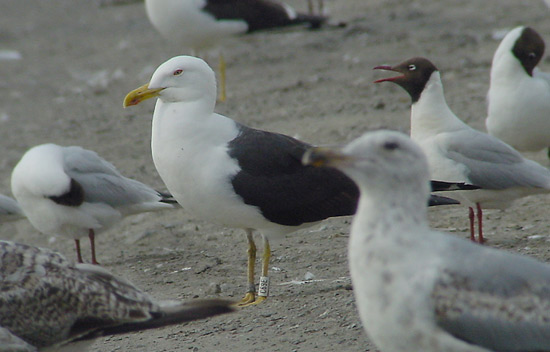 (July 2003)