(3 images) Larus fuscus fuscus 2cy
C6XV

August 07 2002, Tampere, Finland (61.33N 24.59E).

This individual was ringed as pullus, ringed white C6XV, on July 01 2001 in Luopio, Finland (61.35N 24.73E) by Risto Juvaste. Hand when ringed: 250 mm.
Considering the upper-part moult, this is another example of typical Finnish fuscus, representing average 2cy fuscus.
Recorded at Tampere:
2001-09-18,
2002-07-09, 2002-07-10, 2002-07-13, 2002-07-14, 2002-07-15, 2002-07-19, 2002-07-20, 2002-07-25, 2002-07-28, 2002-07-30, 2002-08-03, 2002-08-04, 2002-08-07, 2002-08-09, 2002-08-12,
2003-05-20, 2003-06-16, 2003-06-17, 2003-06-18, 2003-06-20, 2003-06-22, 2003-06-29, 2003-07-05, 2003-08-03, 2003-08-09.
After August 12 2002 & August 09 2003, C6XV wasn't seen again at Tampere dump despite intense visits and may have moved further south from those dates on.

An advanced second calendar year fuscus with all primaries included in the moult on the wintering grounds last spring; so this bird returned to Scandinavia with 10 fresh second generation primaries (note the rounded tips). All rectrices and secondaries are also 2nd generation. After arrival in N Europe, a new moult wave was started in the inner primaries. By August, the two inner primaries are fully grown 3rd generation and P3 is still growing.

All tertials and secondaries have all been replaced (the upper tertials already for third generation feathers), as can be seen where the central greater coverts are missing.
This is one of the most advanced birds at Tampere, much resembling 3cy birds. This advanced moult is obvious in the wing-coverts: the abraded wing-coverts are second generation (the central greater coverts, the inner lower lesser coverts and the upper row of lesser coverts). Subsequently, the next moult wave included the median coverts, most of the lower lesser coverts and the inner greater coverts.

The scapulars are all dark and most are third generation, although the all-black scapulars are hard to classify. Some older scapulars show a brown cast. They are probably the first moulted third generation feathers. Some scapulars in the lowest row are missing.

More pictures HERE.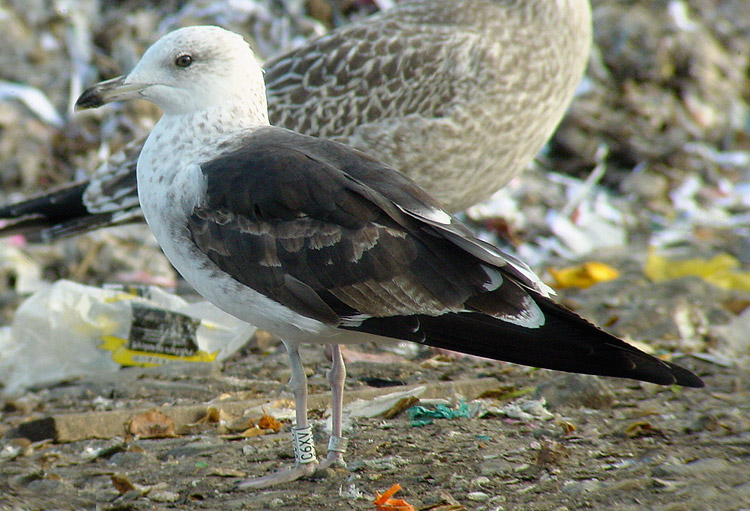 image below: C6XV 3 Aug 2002 (image by Visa Rauste).